6 march 2019
ZDHC premia Brachi con il Level 1!
Un nuovo accreditamento per i test di conformità sui prodotti chimici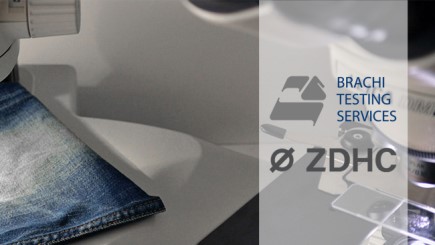 Zero Discharge of Hazardous Chemicals riconosce Brachi Testing Services come Indicator of Level 1 ZDHC MRSL Conformance per i test sui prodotti chimici. Questo nuovo status si unisce a quello di Provisionally Accepted Laboratory già detenuto da Brachi per le analisi sulle Waste Water, ad attestarne le competenze trasversali e l'affidabilità dei metodi di analisi sulle diverse matrici: prodotti tessili, prodotti in pelle, prodotti chimici.

Il carattere distintivo del supporto di Brachi per i test sui prodotti chimici, rispetto ad altri laboratori, consiste nella capacità di proporre un piano dei controlli fondato su metodiche strutturate, orientato alla gestione e al controllo dei rischi e allo stesso tempo sostenibile. La definizione dei piani di controllo realizzati con questa metodologia si realizza attraverso la partnership con Process Factory, che supporta le aziende della filiera nell'implementazione della MRSL ZDHC attraverso il protocollo Chemical Management 4sustainability.

Brachi – lo ricordiamo – è da tempo contributor di ZDHC e partecipa con i principali laboratori del mondo ai lavori del Laboratory Advisory Group per lo sviluppo delle metodologie necessarie all'identificazione delle diverse sostanze chimiche. Un ruolo, questo, che ne consolida l'autorevolezza nelle attività di testing, tutte eseguite al internamente.

"Quando le competenze, la serietà e gli investimenti in tecnologia e innovazione sono riconosciuti a un livello tanto alto, i motivi di orgoglio si uniscono a un rinnovato senso di responsabilità verso il mercato e i nostri clienti in particolare", ha commentato Giulio Lombardo, Sales and Marketing Director di Brachi. "Responsabilità, per noi, significa anche offrire servizi sempre più completi e trasversali a prodotti e processi: non solo analisi, dunque, ma un supporto concepito per dare risposte originali a bisogni specifici".