2 may 2018
Bangladesh: Brachi doubles up
A partnership with Fakir Apparels gives life to Fakir Testing Services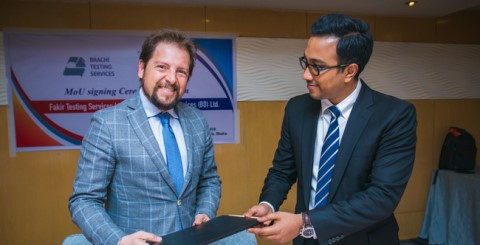 Brachi Testing Services strenghtens its presence in Bangladesh through a partnership with Fakir Apparels, one of the country's most important clothing manufacturers, based not far from the capital Dhaka. Fakir Apparels is a sound company with its own internal laboratory for performance tests on products (Fakir Testing Services) and modern equipment to perform the main chemical analyses required by the market.

For Fakir Testing Services the agreement with Brachi means to acquire the technical-professional competence necessary to further improve operational efficiency, as well as to increase its own testing skills. Brachi selected three specialized professionals for this purpose, providing, in addition to its wide know-how, also the operation manager of the new laboratory.
The term "new" is not used by chance. With this agreement, the Fakir Apparels laboratory becomes a third-party subject, indeed, appointed to perform technical and chemical tests for its customers, but also - which was not possible, up to now - for other companies on the market. Beginning with those located in the same industrial area where Fakir has its offices and plants.

Fakir Testing Services is a new branch of Brachi laboratory in Bangladesh, internationally accredited according to ISO 17025 standard and recognized in perspective by important international fashion groups.
These are the prerequisites for capitalizing the enormous commercial opportunities of the agreement in a strategic country like Bangladesh.